The One-Stop Place
For Developers
Prove your coding knowledge on our Code Challenges,
learn new coding skills and apply for tech jobs.
In one place only.
Trusted by Great Developers!
Prove Your Coding Skills And Compete
With Developers Worldwide.
Show your coding skills by hacking code problems, earn points and get a place on our Leaderboard, while competing against other developers. Double the fun by building your own Code Challenge and watch the community prove its coding skills.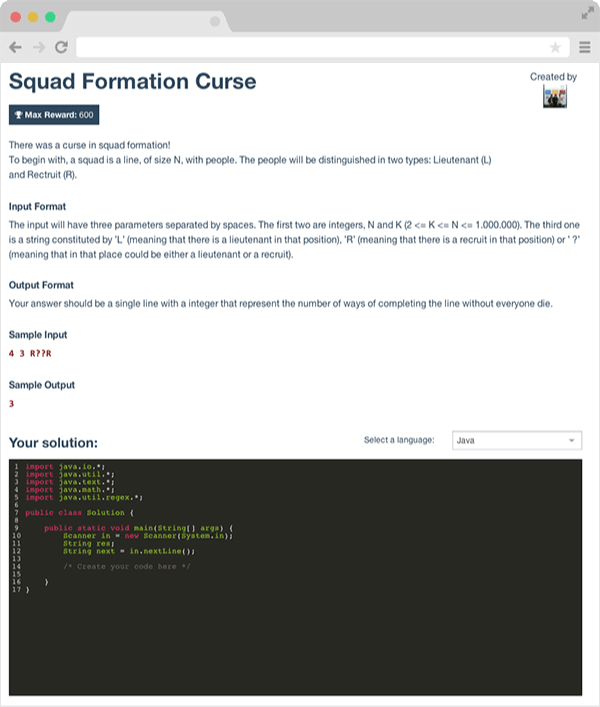 Apply for Tech Jobs And Get Feedback.
Great tech jobs inside with awesome perks are waiting for you. Apply with a press of a button. You can even manage the application on a dashboard an see how many developers applied so far, if the job closed, etc. And if you get rejected, you will receive feedback from the company you applied for.
Learn New Coding Skills or Upgrade
Your Current Knowledge Level.
Be up-​­to-​­date regarding the best methodologies, coding languages and tools so you can code as a Jedi. We aggregate some of the best MOOC's so you don't have to search the web for them.
Cool Tech Events Near You And Worldwide.
Be up­​-to-­​date about the coolest tech events near you like hackathons, conferences, meetups and workshops
Skilleo for Companies
Have access to our talent pool of developers and hire the best ones.
Build Code Challenges and raise the awareness of your company towards our community,
create job ads with technical quizzes and manage all the recruitment process,
in one place only.
Learn How Skilleo Works For Companies